Hotels in India
Tavel to India
Chain hotels of india
Luxury Hotels India
Chennai Hotels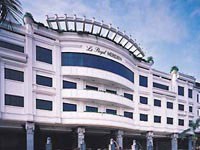 Total Rooms : 240
Star Category : 5 Star Deluxe
Le Royal Mridien Chennai is ideally located with close proximity to both the Airport and the Business Districts of Chennai. This 5-star deluxe hotel with a most impressive lobby, is set amidst 3.5 acres of beautifully landscaped gardens and offers its guests a wide variety of facilities combined with a high level of personalised service.
Top
---
Resort
QUALITY INN MGM BEACH RESORT
5 Star Deluxe
ITC HOTEL PARK SHERATON TOWERS
LE ROYAL MERIDIEN CHENNAI
TAJ COROMANDEL
5 Star
CHOLA SHERATON
RADISSON GRT
TAJ CONNEMARA
THE PARK CHENNAI
THE PRIDE
TRIDENT HILTON CHENNAI
4 Star Deluxe
THE RESIDENCY TOWERS
4 Star
AMBASSADOR PALLAVA
DECCAN PLAZA DAYS INN
GRT GRAND
HOTEL PRESIDENT
RADHA PARK INN
SAVERA HOTEL
THE BENZZ PARK TULIP
3 Star
AMPA CRYSTAL INN
BEVERLY HOTEL
BREEZE HOTEL
BW AMBICA EMPIRE
COMFORT INN MARINA TOWER
HOTEL MAURYA INTERNATIONAL
MADRAS HOTEL ASHOKA
NEW WOOD LANDS
QI SABRI
ROYAL SOUTHERN HOTEL
THE ARUNA
2 Star
HOTEL PANDIAN
Government Approved
BUENA VISTA
Top
Contact us for best deals on Chennai India Hotel, to get your offer on Hotels in Chennai send us your enquiry and we will get back to you for discounted Chennai Hotel.