t2india Hotels have on offer a fine blend of modernity with true Indian hospitality. We have fine blend of India hotels. Right from the Luxurious hotels to the lower budget Hotels, choice of booking Hotels in India is varied. You get to choice from Delhi hotels, Mumbai Hotels, Goa Hotels, Agra Hotels, Bangalore Hotels, Pune Hotels, Jaipur Hotels.

You get the choice to selecting hotels with rates be it resorts, Taj Hotel India, Oberoi, Marriott reservations. Accommodation in India Hotels include deluxe hotels, luxury hotels, 5 five star hotels, first class hotels, airport hotels, business hotels, budget hotels, eco-friendly hotels and economy hotels in India. Book Hotels with t2india and enjoy the best of Hotels in India.

India seems to be the watchword now with every path leading to this splendid country. In fact, tours to India are selling like hot cakes and it seems that everyone is eager to have a piece. So why don't you indulge in a India tour yourself and get a first hand experience of a place that has never failed to enamor its visitors. In fact, the India tours with t2india also acquaint you with some interesting facets of India you can never get to know anywhere else.

Wherever you are in India, you'll encounter the genuine warmth of Indian hospitality. You'll find that hotels in India are a home away from home on your tour to India.

Hotel Finder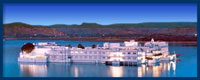 India Hotels: Select State then Place from the Map below
| | |
| --- | --- |
| Hotel in Metropolitan Cities Of India | Hotels At Pilgrimage Centers In India |